On this page:
Stocking Slider, N
on-Slip Chair Cushion, Bed Ladder Strap,
---
STOCKING SLIDER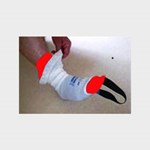 Helps patients put on tight fitting, open toe, compression stockings.
Can also be used to fit a compression sleeve onto an arm.
Strong and slippery construction.
Machine washable.


How to use

:

INFORMATION SHEET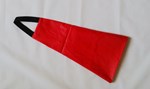 Order Code: STS
PRICE: £14.85
STOCK LEVEL: In stock RED
---
UNI-SLIDE CHAIR CUSHION (Non-Slip - Glide and Lock)
Assists clients when seated in chair or wheelchair. Special internal one-way fabric minimises sliding forward and allows the client to slide back into the seat. Uni Slide action.
Helps to avoid back discomfort and respiratory or digestive problems that may be caused by poor posture.
Reduces the need for lap straps
Washable - Cotton outer cover with rubberised non-slip area.
Measures 40 cm. width by 45 cm. depth when folded in place
Order Code: USC
PRICE: £49.95


STOCK LEVEL: In stock
---
WEBBING BED LADDER STRAP
Allows clients to pull themselves upright in bed by gripping each handhold loop in turn. If the patient cannot grip, they can place their wrist or forearm through each loop to pull themselves up. As well as assisting with sitting up, the strap can be used to steady movement when standing or moving from bed to chair.

Provides exercise for the upper body during use.

1.9 metres in length. Five handholds and bed attachment loop.

Strong webbing construction suitable for heavier clients. Breakload 250 Kg.

Easily fitted to most types of bed either looped through bottom bed rail or around bed leg. Lies on the bed without getting in the way.

CE Class 1 Medical Device

Machine washable - colour blue



INFORMATION S

HEET


(pdf download)
VIDEO

- from our Australian partners
ORDER CODE: BLS
PRICE:
£15.50
STOCK LEVEL: In stock
---
Carriage Charges:
Carriage charges are added following your payment details.
All orders under £25 to UK mainland are charged £3.95.
Orders over £25 and under £50 are charged £5.95
Orders £50 and over are charged £9.75.
Orders over £100 are charged £11.95.
Orders over £500 are charged £25.95
Payments Accepted: Credit and debit cards via secure online payment
Cheques by post
Orders from recognised accounts
---